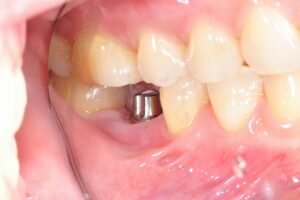 Choosing dental implants to replace your missing teeth is one of the best decisions you will ever make. Although dental implants can initially seem more expensive than traditional tooth replacements, when you take into account their longevity, natural function, and the fact that they help to keep your jaw bone healthy and dense, implants quickly begin to look more like an investment in your smile and your health.
Problems associated with traditional dentures – the fact that they so often become loose, affecting your speech, diet, body image, and confidence – aren't actually caused by changes to your denture. It is in fact changes to your jaw bone that alter the fit of your false teeth. The jaw bone starts to resorb when the natural tooth roots are missing, and as it changes so will the comfort and usability of your dentures.
Because dental implants are artificial tooth roots, which keep on stimulating the jaw bone the way natural roots do, they prevent all of these issues. Dental Implants Bromley in Kent routinely uses implants in combination with dentures, a bridge, or even a single crown, to create a realistic and permanent solution to missing teeth. They can even lost a lifetime.
The key thing to ensuring that your dental implants and new teeth stay with you for the long-term is good oral hygiene. From brushing and flossing your teeth regularly to visiting your hygienist and dentist as often as advised, hygiene helps to keep your new teeth in prime condition.
You don't need to panic that there will be lots of new techniques to learn to keep your new teeth and implants healthy. A good home regime combined with frequent check-ups and hygiene appointments is key.
To brush implant retained crowns and bridges, you simply need to do as you would with natural teeth. Of course, you should adopt any tips that your hygienist gives you to improve your home routine.
Dentures attached to implants are usually removable, thus need to be taken out for cleaning in the same way as their traditional counterparts. Always clean your dentures over a bowl of water or a folded towel, lest they slip through your fingers. Remember to clean your gums and tongue, too.